Get Ready for Bloggy Olympics!!!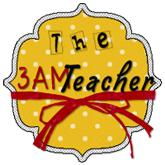 Join The 3AM Teacher, the Reading Olympians, and over 80 SUPREME education bloggers as we take you through a tour of the Reading Olympians Root Study Program!!
I was really excited to try this program out with my kids. However, I was not sure how my kids would respond or if they would be engaged enough for me to hold their attention. Something about prefixes and suffixes just didn't sound interesting. LOL Well let me tell you, I was completely WRONG! My kids were intrigued from the very beginning and this program definitely got them thinking and wanting to learn more!!
The first thing I did was read my students the picture book that comes with the program. I had volunteers come up and hold each page, as I read it. Then we talked about each page as a class.
The first thing my kids noticed was the ancient Greek person featured on each page. I believe their exact words were "he looks like someone from the olden days." Well that was the perfect opportunity for me to explain that these prefixes and affixes began being used a long time ago to help people understand words better.
The next observation my kids had, was also pretty funny. Hearing that prefixes and affixes could change the meaning of words, several students pointed out that it was like "magic" because magic could change one thing into something else completely! So at this point I realized that not only were my kids engaged, they were also thinking and making correlations to things that they knew about in their own world. I thought it was pretty neat!!
We completed two different lessons from this program—adding the suffix S and adding the prefix UN. Both lessons were fairly easy for my students to understand and both were easy to complete within a 30 minute time period.
The students enjoyed working with the puzzle pieces to create words. I really think the puzzle pieces gave them a visual to help them understand that they were adding something (a piece…a prefix or suffix) to each word to make it completely new!
My students have been hard at work writing complete sentences, so some of them did not want to simply write the new word on the line. They wanted to write a sentence using the new word. How could I say no to that??
Overall the lessons were easy to present to students. I was really surprised with how engaged my students were as they were learning. After they had created all the words that were included in the program, they even wanted to make up their own puzzle pieces so they could make even more new words!!
Discover the program IN ACTION in more K-6th grade classrooms as you Pass the Torch!! Get ideas, discover the progression of the program, and enter the Raffle for a chance to win ONE of the three prizes listed below!!
First Place Winner : Gold Medal
Prizes: Complete Reading Olympians Program
$50.00 Amazon Gift Card
50% off Discount Code for a 1-Day shopping spree at The 3AM Teacher's Etsy store!
Second Place Winner: Silver Medal
Prizes: $25.00 Amazon Gift Card
40% off Discount Code for a 1-Day shopping spree at The 3AM Teacher's Etsy store!
Third Place Winner: Bronze Medal
Prizes: 30% off Discount Code for a 1-Day shopping spree at The 3AM Teacher's Etsy store!
Pass the Torch!!!
Click the image below to visit the next blog
Kindergarten:
Grade 1 & 2
Grade 3 & 4
Grade 5 & 6
a Rafflecopter giveaway